Sto Corp's high-performance finishes and architectural coatings applied to Sto continuous insulation (CI) wall systems (StoTherm® ci, StoVentec®, StoPowerwall® ci, and StoPanel®) allow architects and builders to create endless-beautiful-unique aesthetics facades on energy-efficient, durable, and safe buildings.
Modern-Sustainable Buildings Need Unique Aesthetics and Continuous Insulation
Stricter building codes and customers' demands for sustainable and aesthetically pleasing facades prompt architects and builders to aim for structures that balance beauty, durability, and efficiency.
Why Building Aesthetics Matter
The facade sets the building's style, from a welcoming front with warm brick, expansive windows, and a large porch to a distinctive facade with glass cladding and asymmetrical windows. An aesthetically pleasing, well-designed building can help attract clients and customers. It can also improve the building's resale value.
Why Sustainability Matters
Before deciding on a building's outside aesthetics, the architect and builder must ensure the building's design includes all the control layers (e.g., CI thermal layer) needed to ensure an energy-efficient and durable building with excellent indoor environmental quality (IEQ) and manageable long-term maintenance, repair, and utility costs.
The Five Control Layers of a Sustainable-Durable Building
Achieving a sustainable building envelope that protects a building's occupants and integrity requires applying various control layers. When properly designed, integrated, and tested, the five control layers of a building's exterior will repel rain, wind, snow, ultraviolet (UV) rays, temperature changes, etc., to ensure an efficient, durable, and safe building:
1. A thermal barrier (most effectively achieved with CI) lessens energy loss and stops thermal bridging.
2. An air- and water-resistive barrier reduces energy and condensation loss by minimizing the uncontrolled airflow from the wall system.
3. A water penetration barrier flashed to the cladding's exterior prevents water from infiltrating the wall cavity.
4. A vapor retarder limits condensation by controlling water vapor flow as it shifts from high to low-pressure spaces.
5. A durable, water-shedding facade protects the exterior wall against pollutants, environmental elements, impacts, UV rays, and more.
Continuous Insulation, Thermal Barrier Control Layer
Evolving consumer demands and energy standards have made installing continuous insulation (CI) in exterior walls a standard practice. Thermally insulating with CI outside the wall eliminates thermal bridging and helps maintain the building wall cavity's temperature above the dew point, to effectively minimize condensation caused by water vapor diffusion.
In addition, for 30-plus years, the American Society of Heating, Refrigerating and Air-Conditioning Engineers (ASHRAE 90.1) and the International Energy Conservation Code (2021 IECC) have mandated CI, as defined by the ASHRAE 90.1-2010:
CI covers all structural components without thermal bridges other than fasteners and service openings. Installers must apply CI on the exterior or interior of any opaque building envelope surface.
Sto Products Achieve Continuous Insulation and Aesthetics
Sto Corp's high-performance architectural coatings and finishes applied to Sto CI wall systems (StoTherm® ci, StoVentec®, and StoPanel®) offer architects and builders distinctive-stunning aesthetics in many colors, sizes, and textures to create sustainable, energy-efficient, and safe buildings.
Sto's High-Performance Finishes
Sto's high-performance finishes offer architects complete design freedom with a wide selection of finishes in many color and texture options, including flexible brick and wood resin cast shapes. Sto manufactures durable finishes to the highest quality standards to resist dirt and water, in order to protect a building while also providing attractive curb appeal.
StoCast Flexible Resin Cast Shapes
StoCast flexible resin cast shapes enhance performance functionality.
Specialty Aesthetic Finishes
Specialty finishes offer the look of other materials with the benefit of cost savings and additional performance.
StoSignature
StoSignature finishes offer an endless blend of color, profiles, texture, and effects utilizing Sto products.
Sto iQ Technology
Inspired by nature, Stolit® Lotusan offers superior functionality and durability.
Traditional Finishes
Traditional finishes offer a variety of textured wall finishes that meet the performance needs of the building.
Sto's Architectural Coatings
Sto's architectural coatings provide all the features of high-quality paints:
Superior protection against fading, crack bridging, mold, and mildew
Self-cleaning properties
Low VOC
Vapor permeability
Our coatings come in multiple sheens and textures, or we can tint them in various colors to fit any exterior design requirements.
Sto iQ Technology
Nature-inspired Sto iQ Technology Coatings provide superior functionality and durability and are designed to keep the façade dry, clean, and bright to lessen maintenance.
Specialty Aesthetic
Specialty Aesthetic coatings create unique aesthetics to enhance a building's design.
Traditional
Traditional coatings preserve a building's value by serving as a durable, breathable, attractive layer of protection.
Elastomeric
Elastomeric coatings bridge hairline cracks and enhance weather resistance.
StoTherm® Continuous Insulation Cladding Systems
StoTherm® ci cladding systems combine CI, air and water-resistive barriers, drainage, and many textured finishes and coatings to produce sustainable, high-performance wall cladding. The durable and attractive design creates maximum curb appeal and saves money through reduced energy bills.
StoSignature™ Finishes and StoTherm® ci wall system create an iconic exterior for a new multi-family complex.
StoVentec® Rainscreen®
StoVentec® Rainscreen® systems are a complete, fully-tested, and code-approved, back-ventilated wall system that provides strong mineral wool continuous insulation (CI) and an excellent air and moisture barrier.
StoVentec® Masonry Veneer Facades
The drained, fully-engineered, and back-ventilated StoVentec® Rainscreen® complete wall system features a thin brick facade, CI, sub-construction, and a continuous air and moisture barrier.
StoVentec® Glass
Back-ventilated and open joint drained StoVentec® Glass combines superior air and weather tightness with exceptional thermal performance and non-combustible continuous exterior insulation and StoVentec® Glass Panel to produce an advanced high-performance wall system.
StoVentec® Render
The back-ventilated and drained StoVentec® Render Rainscreen® wall system provides superior air and weather tightness with non-combustible continuous exterior insulation for excellent thermal performance and fire protection.
The StoVentec® Render carrier board combines lightweight and high compressive strength, for seamless walls and curved surfaces.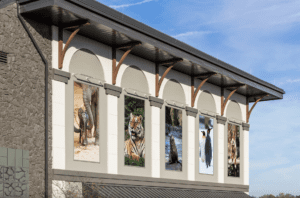 Sto Panel® Technology
Sto's prefabricated Sto Panel® Technology finished exterior wall panels will create a high-performing building envelope. The StoPanel® system panels contain cold-formed metal framing and other vital components, including CI, moisture and air barrier, glass mat sheathing, sub-framing, and beautiful facade aesthetics.
Sto Panel® Technology branded, proven, tested, and warranted prefabricated finished wall panel designs offer the building industry a recognizable, high-quality standard for producing and installing commercial building exterior walls.
Achieve Continuous Insulation and Aesthetics with Sto High-Performing Products
Customers' demands and evolving building codes for more sustainable and eye-catching-aesthetically pleasing facades prompt the building industry to balance beauty, durability, and efficiency in their construction designs and construction.
Sto Corp's high-performance finishes and architectural coatings applied to Sto continuous insulation wall systems (StoTherm® ci, StoVentec®, StoPowerwall® ci, and StoPanel®) provide architects and builders with an efficient solution to achieving continuous insulation and beautiful aesthetics to create energy-efficient, sustainable, and healthy buildings.
Contact our helpful Sto professionals today for more on achieving continuous insulation and beautiful aesthetics for your commercial building.