Building an insulated concrete form (ICF) house or building allows you to apply many ICF exterior finishes: fiber cement boards, stucco, masonry veneers, panel siding, and wood or vinyl siding. If you can apply the finish on a wood-frame structure, you can use it as an ICF exterior finish. However, an ICF wall provides significantly more strength and durability than a wood-framed wall. Your choice of an ICF exterior finish should not just consider cost, personal preferences, and local styles. Other vital factors like ease of installation and climate should also impact your decision for an ICF exterior finish.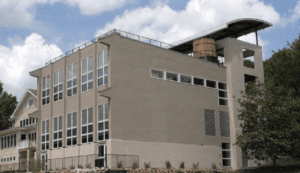 The effectiveness of the exterior finish depends entirely on installing it correctly and professionally. Therefore, ICF exterior finishings that install simply and efficiently will improve your chances of the long-term durability of the wall system. Fortunately, Sto ICF Finish Systems offer a single-source solution for creating an ICF exterior wall and finishing solution, to ensure its appealing, long-lasting curb appeal.
Sto Offers the Best ICF Exterior Finishing Solutions
Sto's specialized finish systems offer an ICF above-grade wall assembly in three finish system options for new construction. Each option offers long-lasting protection, to provide endless exterior finishing solutions with an expansive range of color and texture choices.
Sto ICF Exterior Finishing Options
Sto recommends the finishing option based on the shape of the wall, the ties location on the foam, and the need for extra insulation and a harder finishing surface.
We recommend Option 1, a multiple-layer decorative and protective finish system, for straight, flat ICF walls requiring little leveling, with ties embedded at least 1/2 inch inside the ICF form. Option 1 utilizes a Sto base coat, an optional Sto primer, reinforcing mesh, and a Sto finish.
Sto ICF Coating System provides,
Direct application on exterior above-grade ICF wall construction
Barrier wall construction drainage
Energy efficiency with the continuous exterior insulation of the ICF
Air and moisture protection with ICF Barrier wall construction with a concrete air barrier
The reinforcing mesh embedded in the base coat provides standard impact resistance.
We recommend Option 2 for non-straight and non-flat walls requiring leveling and ties less than 1/2 inch inside the foam. Option 2 also works best if you need additional continuous insulation on the building's exterior. The insulation will help promote energy efficiency and meet the current building codes of your climate zone.
StoTherm® ci cladding systems add continuous insulation to the exterior and include reinforcing mesh, an optional Sto Primer, and one of the many Sto textured finishes to create a sustainable, high-performance wall cladding. The unique and durable system sustains maximum curb appeal and saves money through lower energy bills.
StoTherm® ci Cladding Systems offer,
StoTherm® ci Cladding Systems apply on the exterior above-grade ICF wall for new construction
Drainage wall construction, when properly integrated with flashing
Premium energy efficiency due to the addition of exterior CI to the ICF
Air and moisture protection with ICF backup wall construction with StoTherm® continuous insulation system
The reinforcing mesh embedded in the base coat provides medium impact resistance.
Option 3: Sto ICF – Stucco System
We recommend the Stucco Coating System if you need a harder finishing surface. StoPowerwall Stucco includes stucco, a metal lath, Sto Primer, and a Sto finish. The combination ensures the long-term durability and strength of traditional stucco with StoGuard moisture protection and Sto high-performance with finishes and coatings that keep moisture out. The system also provides a variety of design options.
Sto ICF Stucco System provides,
Sto ICF Stucco System applies on exterior above-grade ICF new wall construction with metal lath and paper backing anchored into ICF web ties or concrete.
Limited drainage when integrated adequately with flashing
High energy efficiency due to the continuous insulation of the ICF
Moisture and air protection with the ICF backup wall construction and code-compliant WRB with StoPowerwall® Stucco Finish System
Sto's Architectural Coatings and Textured Finishes for ICF
Sto offers a wide range of attractive, durable, and dirt- and water-resistant finishes that produce a flexible, strong layer of protection. We manufacture our finishes in ISO-certified facilities to meet strict quality control standards. Our finishing products contain pure white marble aggregate and 100-percent acrylic polymers that come in a variety of textures, profiles, and an extensive range of colors, to enhance your design and harmonize with the surrounding environment.
Sto Specialty ICF Finishes
Sto Specialty Finishes offer durability, long-term performance, and substantial cost savings. In addition, our lightweight, easy-to-install finishes lessen structural requirements, require fewer specialty trades, and save money compared to traditional cladding material. Sto Specialty Finishes come in endless design choices to accommodate the aesthetics and designs for the exterior of any home or building.

Lightweight, flexible, easy-to-apply, and durable custom-made resin cast bricks come in 30 standard brick colors, patterns, and textures, providing an ideal solution for projects calling for the look of traditional or customized "classic" brick.
Lightweight, flexible, resin-cast wood grain planks stained with StoColor® Wood Stain
(available in a wide range of colors in glossy or matte finish) or coated with Sto's high-performance architectural coatings create an authentic wood appearance. Durable StoCast provides a low-maintenance alternative to natural or engineered wood cladding.
StoColor® Metallic achieves a metallic panel appearance in various colors and textures by combining StoColor Metallic Top Coat (a lightweight acrylic-based coating with metallic effect pigments) applied over StoColor Metallic Base. The two layers create luminous depth, allowing subtle light-induced color shifts to produce a dynamic metal look.
StoTique coating achieves an antique-speckled or another custom decorative effect. You can use it over existing EIFS, stucco, painted wall surfaces, or any Sto textured or smooth finish coating.
StoCreativ® Lux wall finish combines the texture and depth of natural stone with the luster of reflective materials, costing just a fraction of real stone or metal. The versatility of this lightweight, trowel-applied finish allows for use in interior and exterior design applications. Durable StoCreativ® Lux comes in six different looks and works well with extremely intricate architectural shapes.
Durable and low-maintenance StoCreativ® Granite offers an acrylic-based exterior and interior wall finish for new construction or renovation. The design of trowel-applied StoCreativ® Granite gives it the look of cut or polished granite but in a lightweight, versatile finish coating.
Low-maintenance, durable, Sto GraniTex™ provides an acrylic-based interior and exterior wall finish for new construction and renovation. Spray-applied Sto GraniTex™ comes in various color combinations designed to feel and look like natural stones.
Sto Offers the Best ICF Exterior Finishing Solution
Easy-to-install Sto ICF Finish Systems offer a single-source solution to creating aesthetically beautiful exterior buildings and homes. Sto ICF exterior finishing options also produce durable, low-maintenance, long-lasting, and energy-efficient wall systems in an extensive range of colors, textures, and profiles to meet all your aesthetic and performance requirements.
For more on the best ICF exterior finishing solution, contact the Sto professionals today at (800) 221-2397.