Intensifying weather conditions, labor shortages, and supply chain issues make planning and completing construction projects on time and budget increasingly challenging. In addition, builders and architects must also strive to accommodate today's demands for more sustainable construction (e.g., energy-efficient, durable, healthy, and low maintenance), whether for new or retrofit construction.
Modern Issues with Traditional Building Projects
Weather Delays
In 2021, weather and climate disasters in the U.S. cost over $1 billion, which significantly impacted the construction industry. Yearly, weather delays impact 45 percent of construction projects worldwide, costing billions of dollars. The increasing intensity and frequency of weather events due to climate change continues to threaten to accelerate construction delays.
Labor Shortages
The continuing lack of skilled and unskilled construction workers makes it challenging for building professionals to stay on schedule and budget. According to Associated General Contractors of America's 2023 Construction Outlook National Survey, 80 percent of building professionals report difficulty filling hourly and salaried positions, with 58 percent predicting this will worsen over the next 12 months. In addition, 72 percent of building professionals indicated an increase in base pay rates between 2021 and 2022 to attract workers.
Supply Chain Issues
Since 2020, the COVID-19 pandemic, transport bottlenecks, and geopolitical uncertainties have created supply chain issues that have impacted the availability of construction materials and created long lead times and volatile prices, which has made it challenging to estimate project costs accurately and stay on schedule.
In 2023, building professionals report the following most significant concerns:
Prefab Wall Construction
To combat the challenges of weather, labor shortages, and supply chain issues, builders are increasingly turning to sustainable prefab panelization, like Sto's prefabrication solution, Sto Panel® Technology, which helps them stay on schedule and budget.
Inspira Medical Center & Medical Office Building – Mullica Hill, NJ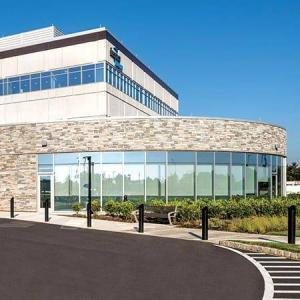 Jersey Panel utilized an exterior prefab solution for this ground-up healthcare project to ensure they met the clients' aesthetic financial and deadline needs. Jersey Panel provided the engineering, fabrication, shipping, and installation of a total of 121,000 ft2 of prefabricated wall panels, including:
To read the full case study, click here.
What is Prefab Panelization Wall Construction?
Under controlled conditions, prefab manufactures custom-build panelized wall systems in off-site factories using advanced machine technology and following specific codes and standards. Sto's prefabricated wall panels include fenestration, cold-formed metal framing, insulation, water/air/vapor barrier systems, flashing, structural framing, and exterior finishes (like stucco, stone, wood, or other material) in a vast choice of finishes to fit the aesthetic needs of any building project.
After transporting the prefabricated finished exterior wall panels to the job site, workers lift and position the panels (without dangerous scaffolding), according to the engineer's and architect's plans.
NOTE: The success of a project depends tremendously on early planning, the application of proper prefabricated building techniques, and good communication between the architect, GC, and panel manufacturer.
Prefab Makes Construction Easy – The Benefits of Prefab Wall Construction
Prefab wall construction provides several benefits that save money and time and contribute towards sustainability. Prefab wall construction can cut production time in half. In addition, a recent University of South Australia study also concluded that prefabricated (modular) construction could lower building costs by 0.6 percent – a significant savings, considering the average construction profit margin is 4.2 percent.
Prefab Lessens Labor and Equipment Needs
Prefabricated wall panels significantly lessen the number of skilled labor installers needed on the job site, which is particularly beneficial as contractors struggle with ongoing skilled labor shortages. In addition, the use of prefab exterior walls also limits the amount of scaffolding used on site, reducing equipment costs and increasing the safety of employees..
Prefab Reduces Weather Delays
With prefabrication of the wall panels occurring in manufacturing facilities, delays on the job site due to weather and subcontractor scheduling delays are reduced.
Prefab Minimizes Supply Waste
Manufacturing prefab walls inside a facility can reduce product packaging and excess product on the job site by nearly 50 percent (compared to traditional construction), that results in savings on material costs..
Sustainable Prefab Wall Systems
Prefabricated wall panels contribute significantly to sustainable construction:
Embodied Carbon Footprint
Prefabricating walls within a factory setting allows for more precise construction, tighter joints, and proper storage of materials, to enhance the wall system's quality and performance.
Factory-built wall panels significantly reduce job site truck traffic, equipment, and material suppliers, which minimizes soil disturbance at the job site.
Reduces the embodied carbon footprint of the project through reduced freight, reduced waste and materials, and a smaller number of crew members.
Operational Carbon Footprint
Reduced operational carbon footprint through the use of continuous insulation and air and water-resistive barriers to create a more energy-efficient building.
Prefabricated panels provide continuous insulation and seamless air and moisture barriers, to create superior energy efficiency and airtightness levels.
Sto Panel Technology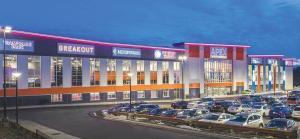 Atlantic Prefab manufactured off-site 50,000 ft2 of StoPanel® Classic ci panels for the Apex Entertainment Facility while on-site workers framed the Apex project, which allowed them to enclose the building in only six weeks.
Straightforward and efficient to install, fully-engineered, code-compliant, and tested Sto Panel® Technology prefabricated-finished exterior wall panels offer the building industry advantages that can combat weather delays, labor shortages, and supply chain issues. In addition, Sto Panel Technology helps create sustainable, long-lasting structures.
The StoPanel® system contains cold-formed metal framing and other valuable components, including air and water-resistive barrier, continuous insulation, glass mat sheathing, sub-framing, and many aesthetic surface options, including metal, brick, and natural stone.
The Future of Efficient, Sustainable Construction – Prefabrication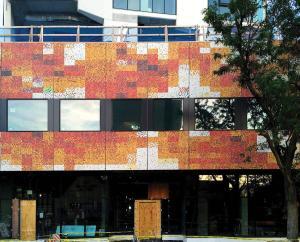 Architects designed the facade of the lower two-story retail portions of this Chicago residential midrise tower with a stylish tile mosaic wrapped around the building. The complex job required 20,660 ft2 of StoPanel® Backup with mosaic tile, StoPanel® Classic ci, and StoPanel® Metal ci. The design also included punched windows, to create the look of ribbon windows.
Prefabrication offers architects, builders, and prefabricated panel manufacturers an integrated, building envelope solution to staying on schedule and budget and creating sustainable industrial, commercial, residential, institutional, and industrial structures that combat today's labor shortage, supply chain issues, and intensified weather concerns. To learn more about Sto's prefabrication solution, Sto Panel Technology, download the article "The Acceleration of Panelization".
Don't hesitate to contact our Sto prefab professionals or visit our website and start designing today.