The construction industry today recognizes the impact of climate science on building design and resilience, regardless of the project's location – hot, cold, moist, dry, marine, etc. conditions. All new and renovation construction must protect the structure and its occupants against increasing weather-related hazards, particularly regarding moisture management.
Adequate moisture management will fortify the structure's long-term integrity and ensure good indoor air quality.
Rainscreens Control Moisture Within a Wall System
According to the E.P.A., a building's design must include three features to control moisture. Fortunately, a quality rainscreen system, like StoVentec® Rainscreen® Systems, provides all these features:
Controls bulk liquid water from snow, rain, etc.

Stops a buildup of indoor humidity and water vapor migration by diffusion and airflow to minimize condensation and moisture absorption into cool surfaces and materials

Made with moisture-resistant building materials
Are Rainscreen Systems Appropriate for My Climate?
Building codes may require a rainscreen, especially in regions that experience heavy rain. Designing structures according to current building codes and standards provides some assurance that the building will stand up to severe weather events. However, building code compliance alone does not guarantee protection since the codes are typically based on historical climate and weather data, which may not consider the increasing hazards of recent decades.
Therefore, regardless of the location and code mandates, installing a rainscreen, like StoVentec® Rainscreen® Systems, will provide superior moisture protection to building envelopes, particularly against catastrophic events.
StoVentec® Rainscreen for Render Facades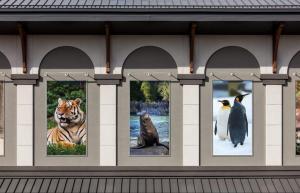 StoVentec Render proved to be the ideal solution for the facade renovation of the Omaha Henry Doorly Zoo & Aquarium Dome and Theater.
Climate Change Escalating Severe Weather Events
Global temperatures climbed to record levels over the last two decades, intensifying worldwide water-related disasters, including lengthy droughts and severe flooding, according to a study from NASA scientists.
For example, this year, atmospheric rivers in California brought severe-extensive rainfall and snow, which caused significant flooding, mudslides, unusable roads, and collapsed bridges. The same region also experienced extreme drought in the past several years. These combined events put thousands of homes and buildings at high risk of flooding.
To protect against increasingly severe weather events, the building community must provide adequate waterproofing components in all future new and remedial construction.
2021 Building Code Changes for Water-Resistive Barriers
Evolving building codes aim to create more resilient buildings. For instance,
the 2021 International Building Code updated water-resistive barrier requirements for cementitious barriers, like exterior plaster (stucco), that continually get wet and dry throughout its lifespan, and made water drainage vital. The need for a water-resistive barrier typically depends on the project's climate zone or geographical location.
The 2021 International Building Code (Section 2510.6) updates to water resistive barriers (W.R.B.) section for stucco over wood-based sheathing includes:
For Climate Zones A (Moist) and C (Marine):
Option 1: 3/16″ (4.8mm) drainage cavity over the W.R.B. when applying stucco on wood-based sheathings like O.S.B. and plywood.

Option 2: Minimum drainage efficiency of 90 percent as measured by ASTM E2273 or Annex A2 of ASTM E2925
The 2021 Climate Zone Map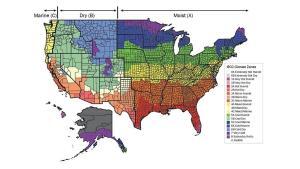 StoCorp. Systems Solution for Climate Zones A and C
Fully tested StoVentec® Ventilated Rainscreen® Cladding Systems are an innovative solution for code compliance in climate zones A and C. An evaluation by Intertek, a respected, independent, and accredited agency, found that StoVentec Render and StoVentec for masonry veneer facades are fully code-compliant for water, wind, and fire resistance and compliant with the following codes:
2021 and 2018 International Building Code® (IBC®)

2021 and 2018 International Residential Code® (IRC®)

2020 Florida Building Code (FBC) (see Section 9)

2019 California Building Code (CBC) (see Section 9)

2020 Los Angeles Building Code (LABC) (see Section 9)
StoVentec® Rainscreen® Systems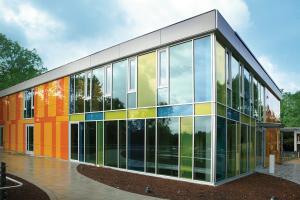 StoVentec® Systems offers a completely ventilated Rainscreen® system with vast design possibilities. Our Rainscreen® systems include:
A high-quality air and water-resistive barrier

Non-combustible mineral wool continuous insulation (CI)

An adjustable sub-framing system

StoVentec® Rainscreen® cladding
In addition, lightweight and energy-efficient, StoVentec® Rainscreen® Systems reduce the cost of heating and air-conditioning and minimize condensation that can cause damaging and unhealthy mold.
StoVentec® Rainscreen® comes in Render, Glass, and Masonry veneer finishes with endless aesthetic choices – including brick, wood, and traditional textured finishes – that achieve beautiful and distinct looks for building Rainscreen® façades combined with Sto's other highly-engineered performance features.
The StoVentro™ Rainscreen® sub-construction is a system for uneven substrates that provides flush transitions between different claddings.
Applying Sto Corp Rainscreen
® Systems
in All Climate Zones and Regions
Worldwide, the building industry must consider methods and products that help protect against weather-related hazards, particularly when it comes to moisture management, even in locations with lower levels of flood, hurricane, atmospheric river, etc. risks.
The StoVentec® Rainscreen® System provides architects with endless aesthetic choices to achieve beautiful and distinct looks for building rainscreen façades combined with Sto's other highly-engineered performance features. The StoVentro™ Rainscreen® sub-construction is a system for uneven substrates that provides flush transitions between different claddings.
Builders will save money and time during construction by choosing a simple, fast-to-install, complete rainscreen cladding system over traditional building techniques. To learn more about rainscreen systems, download Understanding Rainscreen Walls here.
Contact us today for more information on choosing Rainscreen® systems for your climate.