Extruded polystyrene (XPS) closed-cell, rigid XPS insulation significantly improves the energy efficiency of unfinished exterior and interior walls for remodeling and new construction. In addition, the XPS boards provide thermal resistance with an R-value of 4.6 to 5.0, depending on their density, to create a comfortable indoor temperature and reduce utility bills. Moisture-resistant XPS panel insulation, with an absorption rate of 0.3 percent, resists moisture intrusion during and after application to help protect against damaging and unhealthy mold and rot.
Lightweight, versatile, and simple to install, extruded polystyrene sheets typically come in 8-foot and 5-foot lengths, ranging from 16 inches to 4 feet wide and ¾-inch to 4-inches wide. The sheets come unfaced, and are covered with a foil facing, or laminated with plastic. The facing adds water resistance, and the lamination offers strength, but neither affects the sheets' R-value. XPS sheets come in an array of colors (typically blue, green, and pink), based on the manufacturer, not insulating quality.
What is an XPS Insulation Board Used For?
Flexible XPS boards come in various compressive strengths, making them ideal for numerous applications in all areas of the building envelope:
Above-grade insulation applications (walls, attics, ceilings, floors, and roofs)
Below-grade walls (basements and foundation)
Cool/refrigerated rooms
In addition, you can use high compressive strength XPS panels to insulate rooftop parking garages and decks.
How is XPS Insulation Made?
Manufacturing XPS insulation involves combining polystyrene crystals with special additives and a gas blowing agent. Manufacturers feed the mixture into an extruding machine that blends and melts it into a thick liquid. The liquid then gets processed through a die, which expands it into foam, shapes, cools, and trims it into standard-sized rectangular or square boards, with surfaces according to the intended use.
XPS Surfaces
Specially designed machines produce XPS boards in smooth, rough, and grooved surfaces.
XPS Smooth Edge Panels
Demanding applications, like below-grade installation, utilize smooth XPS panels. Smooth, closed-cell XPS panels protect against absorption and diffusion due to long-term water exposure.
XPS Rough Surface Panels
Rough surfaces increase the adhesion of the facade plaster.
XPS Panels with Grooves
Grooves in the XPS panel enhance wall drainage and thermal insulation for foundations.
The Benefits of XPS Insulation
XPS insulation offers many benefits contributing to an eco-friendly, healthy, durable, and safe building envelope.
Energy-Efficient
XPS closed cell insulation, with an R-value of 4.6 and 5.0, gives it a high thermal resistance value, making it extremely energy efficient, by saving energy in buildings and reducing CO2 emissions.
Recyclable
100-percent recyclable XPS allows manufacturers to melt and reform the thermoplastic polystyrene resin into new XPS foam insulation.
XPS High Compressive Resistance
XPS insulation's high compressive strength allows it to withstand a high pressure of >300 kPa, so it can withstand more than 6144 lbs ft2 (30,000 kilos m2) with a maximum deformation of 10 percent, making it ideal for challenging applications:
Below-grade walls – foundations, basements, crawl spaces
Perimeter insulation – protecting foundation walls from the side of the ground
Inverted roofs – applying the waterproofing layer beneath instead of above the insulation
Cavity walls – a wall with a hollow center
Pitched roofs – roofs that slope downwards, often in two parts at an angle from a central ridge
Walkable plates – the strength of XPS insulation makes it ideal for horizontal applications like floors, flat roofs, and heavily trafficked areas
Moisture-Resistant XPS Insulation
XPS insulation provides water and freeze-thaw resistance, to protect the insulation's thermal performance from damaging rot and unhealthy mold. In addition, the high permeability of XPS insulation makes it ideal for bathrooms and other high-moisture rooms.
Simple to Install XPS Insulation
Lightweight XPS insulation allows for easy application without irritating the worker's skin.
Problems with XPS Insulation
The

combustibility of polystyrene foam

makes XPS's proper installation vital to avoiding a fire hazard and the emission of toxic fumes.
The blowing agents in the manufacturing process may deplete over time, lessening the insulation value.
XPS's low-permeability can lead to condensation and mold problems.
Over time, the gas bubbles within the XPS leak out, leaving air that lessens the panels' insulation value.
Most building professionals do not recommend XPS insulation on flat roofs because it will deform above 80 degrees.
How to Install XPS Boards
Applying XPS insulation boards involves gluing the lightweight sheets to the substrate, which is much simpler than batts, blown-in fibers, or spray foam insulation. It is important to only use the manufacturer's recommended foam-safe adhesive. The wrong glue can melt the foam. In addition, butt the sheets snugly together and seal joints with a manufacturer-recommended adhesive seam tape.
Tips for Filling Wall and Ceiling Cavities
To insulate the stud, joist, and rafter cavities, cut the sheets to fit snug in the cavities, inserting them flush with the framing. To prevent airflow that can diminish the R-value, fill gaps along the edges with expandable insulation foam, safe for use with XPS. You can increase the R-value in two-by-six and larger dimension framing by inserting an additional layer of rigid foam insulation.
Tips for Cutting the XPS Boards
You can simply cut thin XPS sheets (less than 2-inches) by holding the straight edge of a utility knife along the cut line, scoring it about 3/4-inch deep. After scoring, lay the sheet on a table scored side up with the cut about 1-inch off the table. Firmly hold the sheet down and snap along the line. Trim the rough edges with the utility knife
For thicker sheets (greater than 2-inch), you will need a handheld drywall saw, or a table saw.
Tips for Installing XPS on Exterior Sheathing
Installing 2-inch EPS boards on exterior sheathing requires additional furring strips or other structural supports. In addition, 2-inch XPS does not supply the strength needed to support the weight of the siding. Therefore, Sto strongly recommends that you check with your local building authority to determine the required type of additional support before installing 2-inch XPS as exterior sheathing.
Sto XPS Continuous Insulation Wall Systems
Sto offers superior, simple-to-apply cladding solutions for applying XPS to an exterior wall system compared to XPS insulation boards: StoTherm ci XPS and StoPanel XPS ci. In addition, Sto XPS CI wall systems meet the requirements of fire, energy, and green building codes.
Sto XPS Wall Systems meets the requirements of NFPA 285 and NFPA 268 for use on non-combustible construction (Types I-IV).
Sto XPS Wall Systems 2021 International Building Codes (IBC)
Ch. 26: Types I-IV (non-combustible) Construction, Ignition Resistance, Surface Burning Characteristics
Ch. 17: Special Inspections, Types I-IV (non-combustible) Construction
Ch. 16: Structural – Transverse Wind Load Resistance
Ch. 14: Exterior Insulation and Finish Systems, Weather Resistance
Ch. 7: Fire Resistance Rated Construction
Sto XPS Wall Systems 2021 International Energy Conservation Code (IECC)
Ch. 4: Continuous Insulation (ci) over Metal Frame Walls – All Climate Zones (with sufficient ci thickness)
Ch. 4: Continuous Air Barrier
Sto XPS Wall Systems 2021 International Green Construction Code (IGCC)
Ch. 6: Energy Conservation, Efficiency and Atmospheric Quality (Section 606: Building Thermal Envelope insulation and Air Sealing) Alternative Compliance Path: ASHRAE 189.1-2009
Section 5: Building Envelope Continuous Insulation (ci) over Metal Frame Walls – All Climate Zones (with sufficient ci thickness)
Section 5: Continuous Air Barrier
Sto XPS Wall Systems 2021 ASHRAE 189.1 Green Building Standards Compliance
Normative Appendix A: Building Envelope
Continuous Insulation (ci) over Metal Frame Walls – All Climate Zones (with sufficient ci thickness) Normative Appendix B: Continuous Air Barrier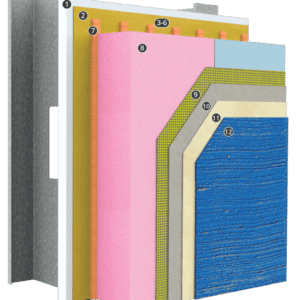 Durable StoTherm® ci XPS, one of StoTherm® ci wall systems, is a drainable exterior insulation finishing system that incorporates high R-value XPS insulation into the wall system, and StoGuard® fluid-applied air and moisture barrier, with Owens Corning Foamular CI-C or Dow STYROFOAM™ Panel Core 20 insulation. StoTherm® ci XPS produces water and airtight air walls to ensure superior durability and thermal efficiency.
The unique, durable system sustains maximum curb appeal and lowers energy bills to save money. In addition, StoTherm® ci XPS can be finished with a variety of Sto textured finishes or specialty aesthetic finishes to accommodate your building's design needs.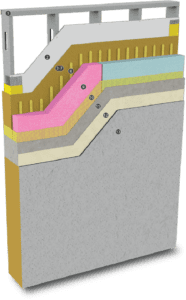 Lightweight StoPanel XPS ci prefabricated panels incorporate extruded insulation within the panel assembly, and create exterior wall cladding with excellent air and weather tightness, superior thermal performance, and long-lasting durability. In addition, architects and designers can choose from Sto's numerous decorative and protective color and finish options.
StoPowerwall® ci with Crack Defense option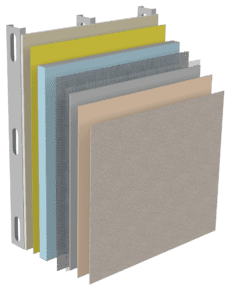 StoPowerwall® ci energy-efficient stucco wall systems include StoGuard® air and water-resistive barrier, Owens Corning or Dow Type IV XPS insulation board, Sto DrainScreen, and Sto textured finishes.
StoPowerwall ci integrates continuous XPS insulation, air/moisture barrier, drainage, and Sto's extensive collection of aesthetic surfaces in a hard coat stucco system.
Sto Colors
Designers can use Sto's unique Color System as a planning tool for choosing the colors for their architectural designs. The Sto Color System provides several benefits:
Clear, logical system makes it quick and easy to understand
Ensures reliable application of Sto's endless and harmonic colors for use on exterior and interior
Efficient, perception-oriented presentation media for all phases of color design
The Sto Color Collections include:
Sto Traditional Finishes
Sto's extensive selection of finishes features pure white marble aggregate, acrylic polymers in various textures, and a wide range of color options to boost your design and harmonize with the surrounding environment. In addition, durable, high-performing Sto finishes resist dirt and water, protect the building's facade, and enhance its curb appeal. Sto high-quality finishes include:
Sto Has the Best XPS Wall Insulation Solutions
Sto offers superior, sustainable, simple-to-apply, multiple code-compliant cladding solutions for applying XPS to an exterior wall system compared to XPS insulation boards. Drainable StoTherm® ci XPS and StoPanel XPS ci create high-performing, sustainable, and attractive cladding systems, improve indoor comfort and air quality, save both money and energy, and ensure long-term durability:
StoTherm® ci XPS integrates continuous XPS insulation, air/moisture barrier, drainage, and Sto's extensive collection of aesthetic surfaces.
StoPanel XPS ci incorporates XPS insulation within the panel assembly, to create a prefabricated finished exterior wall solution with a wide range of high-end aesthetic options.

StoPowerwall ci

integrates continuous XPS insulation, air/moisture barrier, drainage, and Sto's extensive collection of aesthetic surfaces in a hardcoat stucco system.
Don't hesitate to contact the Sto professionals for everything you need to know about XPS insulation.