Initially, industrial building facades functioned only to support the roof or floor, with a simple hole to allow for light or entrance. Typically these structures included a monochromatic, single-material commercial building facade.
However, the evolution of building science incited the development of innovative construction technologies and materials that improved industrial building sustainability, durability, occupant safety, and facade aesthetics.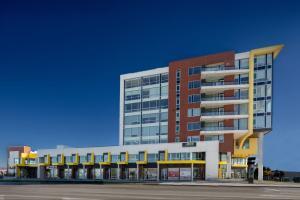 Facade Demands of Today's Architects
Today's commercial architects and building owners want sophisticated, eye-catching industrial building facades that blend glass, wood, metal, and brick to give a building personality and character.
In addition, commercial building facades must act as the primary barrier against wind, sun, rain, ice, snow, etc., to protect the building's integrity, reduce maintenance and repair costs, lessen energy consumption, and enhance its indoor environmental quality (IEQ).
Facades Made of Prefabricated Resin Cast Shapes
Conventional commercial building facades can only achieve today's architectural demands with additional materials, and increasing the construction timeline and cost. Fortunately, modern manufacturers of prefabricated resin cast shapes, like those offered by Sto Corp., offer the beauty of traditional cladding materials but with significant benefits:
Design Flexibility and Versatility
Lightweight, flexible, and highly customizable resin-cast shapes allow architects to design buildings with curved wood or bricks – an impossible task with traditional facade materials.
Resin-cast shapes provide design flexibility that enables designers to mix and match different looks without sacrificing performance, for example:
Resin cast wood shapes come in various wood-grain patterns, with realistic depth and texture, to avoid duplicating patterns often seen in other cladding solutions.
Resin-cast bricks can match traditional brick colors and textures to create unique aesthetics.
Durability Through the Systems Approach
As part of a fully engineered building enclosure system, resin-cast shapes ensure the building envelope can withstand the forces of nature. Utilizing a building enclosure with five control layers in a single, tested system delivers the desired aesthetic, durability, protection from the elements, and a comfortable interior environment. The five control layers include:
1. A permeable or impermeable vapor control layer minimizes condensation by controlling water vapor flow as it shifts from high- to low-pressure areas.
2. An air control layer lessens energy loss and condensation by minimizing the uncontrolled flow of air through the wall assembly.
3. A water penetration control layer flashed to the cladding's exterior to stop water from entering the wall cavity.
4. A thermal control layer to limit energy loss and stop thermal bridging.
5. A durable, water-shedding layer protects against environmental elements, pollutants, impacts, UV exposure, etc.
Installation Efficiency
Manufacturers produce custom-made resin-cast shapes in a controlled factory-setting environment to deliver greater accuracy and efficiency compared to traditional labor-intensive, time-consuming, and costly on-site construction. In addition, resin-cast shapes streamlined process means a one-source warranty, so a single installer and manufacturer address all potential needs with the system.
Furthermore, builders can install resin-cast shapes over various structurally sound systems, like traditional EIFS, stucco, and rainscreens.
Safe
Resin-cast shapes protect the construction crew's safety.
User-friendly, resin-cast shapes offer a lightweight option that eliminates the need to carry and transport heavy brick and wood panels and bricks.
The installation process is simple and quick, to save time and materials and reduce job site accidents.
Workers can safely handle the silica-free resin.
Using shears, workers can easily cut the resin shapes.
Installing resin-cast shapes does not generate dust or sand, which is a common byproduct when working with traditional materials.
Sustainability
Evolving energy codes demand a reduction in energy consumption, and require building owners, architects, and contractors to look for building materials, like resin-cast shapes, that help to meet performance requirements while not compromising on aesthetics.
Durable and long-lasting resin-cast shapes contribute to sustainability because they minimize the need for repairing and replacing.
Thin, lightweight resin-cast shapes lower the carbon footprint of construction compared to natural materials, with lower transportation and operational costs.
Cost-effective, lightweight material allows for lower deflection reducing the amount of steel framing required
Manufacturers test resin-cast shapes for moisture intrusion and fire performance, to ensure that the resin-cast shapes remain constant and will not falter when exposed to moisture, like natural wood, which will warp and expand.
Why Use StoCast Products For Your Next Industrial Building Facade?
Builders and architects can use StoCast on all Sto's engineered wall systems to create the beauty of traditional cladding materials combined with significant functional benefits.
Sustainable
Thin, lightweight StoCast products significantly lower energy use in manufacturing and transportation and reduce waste and structural loads compared to traditional cladding. In addition, workers can safely handle silica-free StoCast products.
Easy-to-Apply
Fast and easy-to-apply prefabricated StoCast resin shapes require minimal specialized training and no fasteners, hastening the application process for field and off-site construction.
Cost-Effective
StoCast products are lightweight, thus reducing the amount of steel framing required and resulting in lower costs.
Durable and Low Maintenance
Manufacturing StoCast products with Sto's durable, UV-resistant coatings and finishes will not chip, warp, or effloresce like traditional facade products. In addition, Sto products require minimal maintenance and recoating.
Perfect for Multi-cladding Aesthetic Designs
When used with Sto's engineered wall systems, architects can combine StoCast products with traditional Sto finishes to achieve various looks without complex transitions, ensuring the continuity and compatibility of all the building envelope's control layers.
Mixed-Use Building in Newcastle, Canada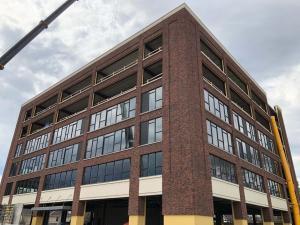 Sto Panel Type: StoPanel® Classic NExT ci with StoCast Brick and StoSignature™ Stone
Owner: Gyaltsan Properties
Architect: Nick Swerdfeger Architects
General Contractor: Wilkinson Construction Services Inc.
SkyRise Prefab manufactured and installed 17,000 ft2 of StoPanel® Classic NExT ci panels with StoSignature™ Stone and StoCast Brick to achieve a similar look to the heritage brick facades of the nearby historical buildings. The Sto Panel wall assembly provides long-term durability, sustainability, and lower maintenance to withstand the severe Ontario winters. Additionally, manufacturing the panels off-site makes installing and working in constrained spaces easier.
StoCast Brick
Prefabricated, versatile, and customizable resin cast StoCast Brick furnished the traditional brick look that the project mandated, with several notable benefits:
1. StoCast Brick provides a perfect solution for renovation projects requiring custom brick matching.
2. The custom-made resin-cast brick shapes come in 30 standard brick options or project-specific colors, textures, and patterns.
3. Builders can install StoCast Brick with Sto's engineered wall systems or over above-grade vertical concrete, stucco walls, ceilings, and soffits.
B-Line Condominium Development – Toronto, Canada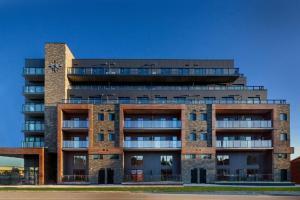 Applicator: Skyrise Prefab Building Solutions
General Contractor: Skyrise Prefab Building Solutions
Architect: John Romanov | Romanov and Romanov Architects
Sto Products: StoPanel® Classic NExT ci, StoSignature® Stone, StoColor® Acryl Plus, StoCast Brick, and StoCast Wood.
The stunning B-Line condominium development came together thanks to Toronto-based Sto Panel® Technology affiliate SkyRise Prefab Building Solutions. There were three notable factors of the project that challenged SkyRise:
1. The tight, constricted job site.
2. The client/developer's desire for a continuous insulation solution.
3. The need to accommodate multiple finishes and a complex design.
Fortunately, the StoPanel® Classic NExT ci panel system with Sto's nearly endless aesthetic selections was one complete solution to accommodate all three of these factors.
StoPanel® Classic NExT ci panel system has continuous insulation, maximized comfort, and efficiency.
StoPanel® Classic NExT ci prefabricated panel allows for installation in a tight job site.
Sto finish layer options offered multiple contrasting finishes without scaffolding, including StoCast Wood and StoCast Brick.
StoCast Wood
Lightweight, flexible StoCast Wood creates an authentic wood look with resin-cast wood grain planks. StoCast Wood provides several significant advantages:
1. StoCast Wood offers design flexibility with 45 different wood grains and non-repeating patterns that produce the look of real wood.
2. Builders can stain simple-to-install StoCast Wood with StoColor® Wood Stain in a wide range of colors in a matte or glossy finish. You can also coat with any of Sto's high-quality architectural coatings.
3. Builders can install StoCast Wood over Sto's engineered building enclosure systems, stucco, concrete, concrete masonry walls, ceilings, and soffits.
4. StoCast Wood provides durability and low maintenance, to reduce a building's owner's expenses for repairs and upkeep.
StoCast Products for the Best Commercial Building Facades
StoCast resin-cast shapes offer architects, contractors, and building owners a traditional look for the building facade with greater energy performance that meets or exceeds current energy code standards for long-term building performance.
Sto can help you achieve unique, interesting, and attainable industrial building facades with our expansive range of aesthetic possibilities and building envelope solutions. Our products also promote durability, sustainability, safety, and enhanced indoor environmental quality.
Don't hesitate to contact our industrial building facade professionals or visit our website to begin designing today.