Glass facade building, or glass facade elevation, gives architects and designers aesthetic versatility with beautiful colors and endless glass facade designs, and glass face textures and shapes to produce unique and eye-catching looks for any building.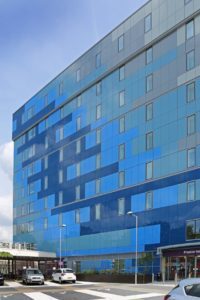 High-performing glass facade buildings, like those built with StoVentec® Glass, offer:
Durability with weather resistance and enhanced safety with wind, fire, and blast resistance
Thermal insulation for improved building energy efficiency
Excellent Indoor environmental quality (IEQ)
Conductive Education Centre, Munich, Germany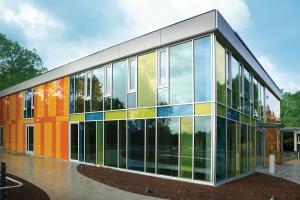 RPM Architects designed the Conductive Education Centre with stunning, colorful glass facades that uniquely incorporate a StoVentec® Glass Rainscreen® system.
What is a Glass Facade?
Glass facade details include the different materials used to cover a building's exterior that protect the exterior and frame and also enhance its aesthetic attractiveness. An exterior glass facade serves many functions:
Protects the building from external conditions
Creates an external facade with glass panes
Furnishes security and privacy
Limits the transmission of sound
Provides thermal insulation
Reduces the spread of fire
Provides openings for ventilation, access, and daylight
What Are the Advantages of Glass Facades?
Manufacturers can use several products to construct facades (metal, plywood, plastic, natural stone, and glass). However, only glass facades give architects vast design versatility to create distinct, unique, and stunning buildings. It also provides significant construction and maintenance advantages and helps enhance a structure's IEQ and sustainability.
Aesthetic Benefits
Produces a durable, exquisite, and functional design with textured glass through glass fusing
Creates modern, aesthetically pleasing exteriors with eye-catching and unique designs, dazzling colors, textures, and shapes.
Provides further design flexibility with translucency or transparency
IEQ Benefits
Offers significant sound insulation to improve occupants' productivity and comfort
Enhances indoor air quality
Sustainable Benefits
Provides thermal insulation, which lessens energy use and lowers the loads on the HVAC system. This in turn lowers operating expenses of a building as you don't have as many heating/cooling demands.
Impact-resistant glass facades further enhance a building's durability
Protects a building from the elements, which improves its durability and longevity
Construction Benefits
Doesn't increase a structure's dead load, which makes glass facades ideal for high-rise steel structures
Speeds up the building process with fast and easy-to-install prefabricated panels, unlike other facade materials which may require a specific curing time
Maintenance Benefits
Glossy and smooth surface that cleans easily in wet and dry environments
Rust-resistance that doesn't react when exposed to oxygen and moisture, unlike rust-prone steel
Resists the effects of sun, rain, and wind without losing its appearance or integrity
Types of Glass Facades?
Architects and builders can typically choose between curtain walls and rainscreen glass facades.
Curtain Walls
Curtain walls are a non-structural, aesthetically pleasing facade system for a structure's wall assembly, often used in multi-story developments. Manufacturers offer curtain walls in prefabricated systems or more expensive specialized custom wall systems.
A curtain wall involves fixing opaque or glazed infill panels to lightweight aluminum frames that are attached to the building skeleton. It creates the look of floor-to-ceiling windows.
The success of a curtain wall depends on a qualified building team to ensure proper installation. In addition, builders must carefully integrate the curtain walls with adjacent structural components like roofs, wall facades, and wall details to prevent significant problems from air and water leaks and falling trim covers.
One big disadvantage of curtain walls is a greatly reduced energy efficiency. This forces designers to have to make adjustments in other parts of the building design, such as the roof, to make up for high amounts of energy and carbon loss through the clear glass.
Rainscreens
Palma Aquarium, Palma de Mallorca, Spain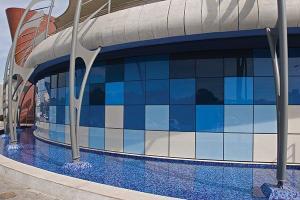 Architects designed the Palma Aquarium with StoVentec® Glass Rainscreen® to create the impression of a living organism.
A rainscreen acts as a ventilation gap to the exterior of the water-resistive barrier. The gap creates a space for drainage and drying to protect the wall from unhealthy and structurally damaging mold. The rainscreen also furnishes several functions that protect the wall assembly:
Rainscreens provide superior thermal performance and wind, impact, and fire protection. All features contribute to the glass facade's long-term integrity and the occupants' air quality, comfort, and safety.
The rainscreen protects the wall's interior from the sun rays, air pressure (wind) variations, and other extreme weather conditions.
A rainscreen protects the exterior walls from snow, rain, and other bulk liquid water.
The ventilated rainscreen increases a wall's capacity to dry, stopping it from infiltrating the building envelope.
Rainsceens prevent indoor humidity and vapor migration accumulation by diffusion and airflow – limiting condensation and moisture absorption into cool surfaces.
A high-quality rainscreen includes the following:
A water-resistive barrier (WRB)
Non-combustible, continuous insulation
An air space between the siding's back and WRB
Flashings at penetrations and vulnerable spaces
Contractors will save money and time by selecting a straightforward, quick-to-install, complete rainscreen facade system over conventional building methods. Some building codes may require a rainscreen, particularly in heavy rain regions.
MP09 Black Panther, Graz, Austria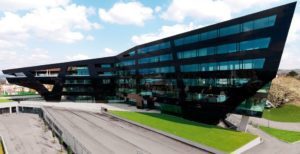 GSarchitects architects designed this mixed-use building with energy-efficient StoVentec® Glass to reflect their environment.
StoVentec® Glass Rainscreen® Systems
Stable and strong StoVentec® Glass Facade Rainscreen® systems contribute significantly towards safe, energy-efficient, comfortable, and low-maintenance buildings with superior IEQ. StoVentec® Glass Rainscreen® systems also provide wide design flexibility, with many color, shape, texture, and materials options to fit any aesthetic and architectural requirements.
The StoVentec® Glass Rainscreen system consists of glass-faced composite panels (outer layer) to keep out snow and rain. Mounting brackets between the panels produce a gap that permits air circulation (ventilation), moisture evaporation, and drainage. Thermal insulation is installed over the liquid-applied WRB and between the rails of the StoVentro subconstruction that fastens directly to the building structure.
Sto's simple-to-install glass rainscreen system ensures a long-lasting wall system that furnishes thermally-efficient insulation that limits damaging condensation and lessens heating and air-conditioning costs. The glass facade's structural frame also enhances safety against wind, high impact, and fire.
Why Choose StoVentec® Rainscreen® Facade Systems?
In a single-source, tested system, the StoVentec® Glass Rainscreen® facade includes eight components that produce an open joint and back-ventilated rainscreen wall system.
The StoVentec® Glass Facade Rainscreen® system ensures superior air and water tightness, thermal performance, and blast, fire, and wind protection to improve a building's longevity, integrity, and IEQ.
With so many options for glass panel shapes, sizes, and colors that fit all aesthetic and architectural designs, you're sure to find the perfect StoVentec® Glass Facade Rainscreen® system for your building! Contact the experts at Sto Corp today. Click here to learn more about Rainscreen wall systems.