Building restoration of the exterior cladding can maximize a structure's health with improved sustainability and indoor environmental quality (IEQ). Building rehab can enhance sustainability and IEQ, and provide several significant environmental, occupant, and financial benefits.
Healthy, sustainable construction protects the environment by:
Saving energy
Building retrofit allows for addition of more energy-efficient products, like wall and cladding systems, windows, doors, etc.
Building rehabilitation reduces energy use that would be needed for demolition and new construction.
It allows for reuse of embodied energy in building systems and materials.
Recycling of building materials
Less need for new materials, saving natural resources
Minimizes construction and demolition debris, so reduces landfill waste
Restoration reduces hazardous material debris
Improves building durability
Sustainable design improves the durability and longevity of a rehab building, to preserve natural resources and lessen maintenance costs by promoting fire-, wind-, moisture-, and termite resistance, and save money through lower repair, maintenance, and replacement.
Healthy, sustainable buildings improve the IEQ by:
Enhancing Indoor Air Quality
Decreases moisture infiltration that can lead to unhealthy mold and mildew
Avoids materials with high volatile organic compounds (VOC) emissions that can cause eye, nose, and throat irritations, headaches, nausea, and damage to the central nervous system, kidney, and liver
Improving Comfort
Improves the comfort level of the occupants by stabilizing temperatures within the building
Economic Advantages of Retrofitting and Restoring
Increases real estate values
Allows for quick occupancy of existing usable space
Often costs less than new construction
Commercial building restoration that improves sustainability and IEQ can reduce employee sick days and improve their productivity.

Sto's A.R.T. of reStore® Program
Successfully achieving all of these benefits typically requires the help of qualified and experienced building restoration services or building restoration companies that implement innovative solutions for the restoration of buildings and monuments, like Sto's The A.R.T. of reStore® program. Our easy-to-apply, safe, durable, and non-toxic products can also maximize the health and energy efficiency of a building by creating a tight building envelope that limits air and moisture infiltration.
The Four Treatment Levels of Restoration
In 1966, following the National Historic Preservation Act (NHPA) passage, the Secretary of the Interior developed the Standards for the Treatment of Historic Properties to guide historic building preservation practice and design. Moreover, all grant-in-aid projects assisted through the National Historic Preservation Fund mandate the Standards for the Treatment of Historic Properties, as described in 36 CFR 68.
The Standards cover four treatment levels of restoration for historic properties: preservation, rehabilitation, restoration, and reconstruction. The treatment level depends on the property's historical significance, proposed use, physical condition, and intended interpretation. All levels permit code-required work to make properties functional, including the sensitive and limited upgrading of plumbing, mechanical, and electrical systems.
1. Preservation
Preservation involves installing measures needed to sustain the materials, existing form, and integrity of a historic building. The work involves steps to protect and stabilize the structure, focusing on ongoing maintenance and repairs of historical components and materials rather than new construction and large-scale replacement. Preservation does not involve new exterior additions.
2. Rehabilitation
Rehabilitation comprises repairing, adding, and altering a historic structure while preserving those components or portions which contribute to its architectural, historical, or cultural values. Rehabilitation permits the replacement of deteriorated features; however, the replacements must match the old design, color, texture, and, if possible, materials.
3. Restoration
Restoration should accurately represent a building's character, form, and components from a particular time. To accomplish this, a builder must first remove building components from other periods and then reconstruct the removed parts to match the restoration period. In addition, builders can replace deteriorated features with new components that match the original design, color texture, and, if possible, materials.
4. Reconstruction
Reconstruction includes designing and constructing a new structure to match the aesthetics or appearance of a building from a specific historical time.
Sto's Complete Approach to Building Restoration and Rehabilitation
Sto's A.R.T. of reStore® offers an innovative solution that provides all the services and materials required to restore and maintain your building's facade. Our product's engineering can also improve the building's health, energy efficiency, occupant comfort level, and safety.
ReStore® provides four levels of restoration, from superficial dirt and mold removal to a complete facade restoration or rehabilitation with all the needed products and support:
Clean and Recoat: A simple program to remove dirt, mildew, and mold, while updating or refreshing the facade's color.
Repair and Refinish: A program to repair minor damage to EIFS facades or stucco before it becomes a bigger problem.
Overclad: A cost-effective program to fix moisture intrusion problems and enhance the facade's energy efficiency and aesthetic appeal.
Remove and Reclad: New cladding is a more efficient solution for exterior walls deteriorating beyond repair.
Sto's Comprehensive Repair Guide
Sto's Comprehensive Repair Guide includes 30 common problems affecting EIFS, stucco, masonry, and concrete, with detailed illustrated solutions.
To download a copy of Sto's Repair Guide, Click here.
Sto's Vast Aesthetic Choices
Sto provides the aesthetic flexibility to replicate any facade, including concrete, stone, brick, and wood, with complete design freedom in endless texture, color, and material options. Sto Studio can also help with suggestions on textures, colors, and materials to help maximize the health of your building with a sustainable, high-performing, fully-engineered, and beautiful cladding system.
Sto Design Tools
Sto will help you with your architectural design process, ensuring that your building restoration will maximize the health of the building. We aim to produce a total facade concept, including color and material options, to preserve the original character and aesthetics of the building. In addition, we can create an array of color renderings to determine the most acceptable facade to ensure the cultural integrity of the historic building.
Sto's website features two tools engineered to assist you with your creative visions: the StoInspire and Aesthetic+Product Selector tools.
The StoInspire tool aids you in the visualization stage by allowing you to apply selected Sto aesthetic colors and surfaces to building models. The tool allows you can save your project renderings and even order material samples.
The Aesthetic+Product Selector tool makes it simple to understand how Sto allows you to achieve a desired aesthetic. You can select based on the desired aesthetic, the material type or process, or the texture or pattern you want on your project.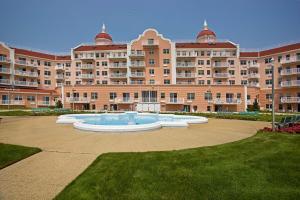 Restoration of the 100-year-old Lido Beach Towers condominium community showcases the potential of StoTherm® ci as a retrofit method for deteriorating buildings. The aesthetically pleasing second-skin approach of EIFS significantly improved the building's health, sustainability, and energy efficiency.
StoTherm® ci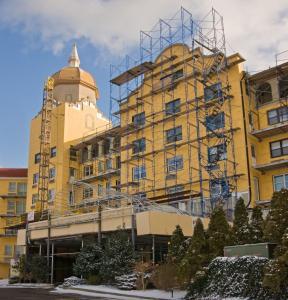 Sto's continuous insulation wall system (EIFS), the StoTherm® ci, is a high-performing, energy-efficient wall cladding that improves the health of the building. It combines several proven elements: StoGuard® air and water-resistive barrier system, StoTherm® ci insulated cladding and drainage, and Stolit® Lotusan®, a textured finish with self-cleaning properties.
Best Practices for Maximizing a Buildings Health by Restoration and Rehabilitation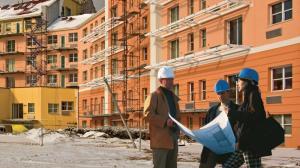 The best practices for maximizing building health must allow new technologies and equipment to meet applicable codes, improve the building's health, ensure occupants' safety and comfort, and protect the environment through sustainable building practices and materials. Fortunately, retrofitting and restoring the exterior facade of a building with Sto's A.R.T. of reStore™ innovative solutions can help to maximize your building's health through improved sustainability and I.E.Q.
Don't hesitate to contact Sto professionals for more on how our A.R.T. of reStore® solutions and Sto Studio can help you maximize the health of your building.