Architects and builders in the market for a smarter wall design and construction method than precast concrete wall panels should consider Sto Panel Technology – partnerships between leading contractors, fabricators, and Sto Corp. – the number one global manufacturer of building envelope solutions. Our tested and warranted prefabricated, finished concrete wall panels offer a superior standard for manufacturing and efficiently installing exterior walls.
Precast Concrete Panels Definition
Precast concrete wall panels provide a single cladding assembly built by one certified manufacturer in a controlled environment. They allow for quick and straightforward exterior finish wall application for a building.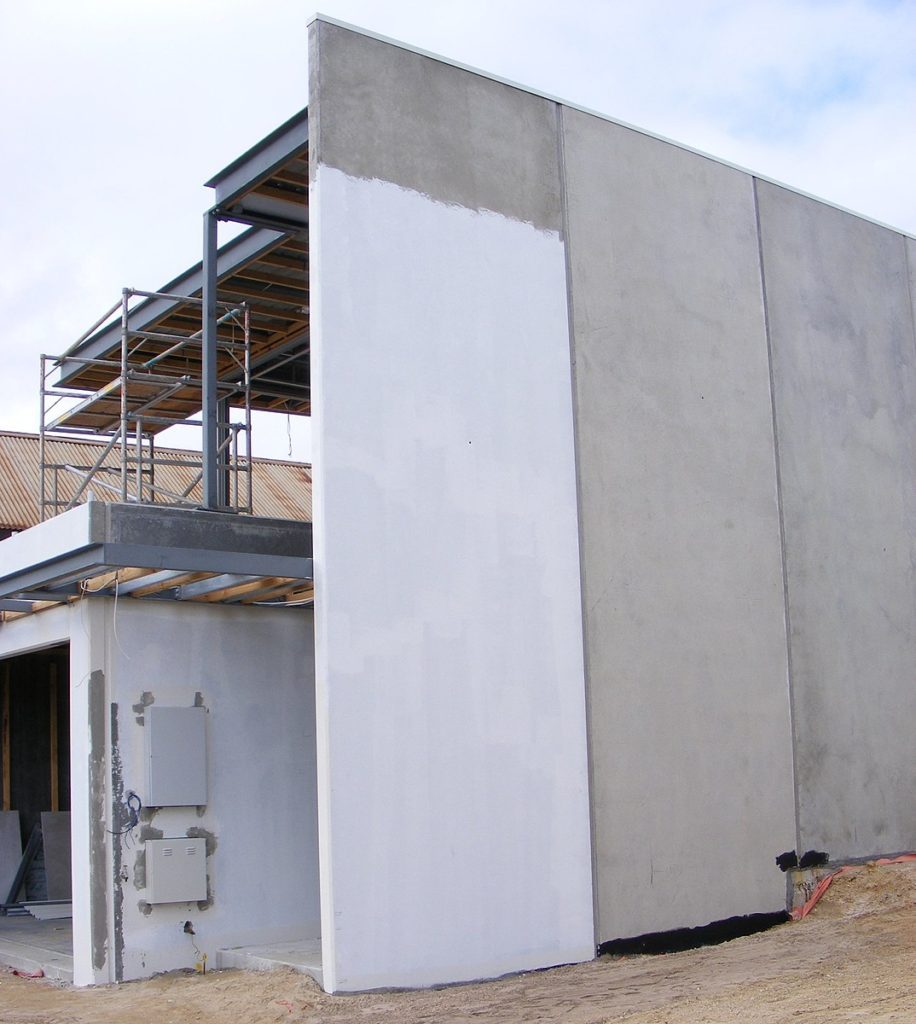 Durable precast concrete panels provide good structural framing, and heat, air, and moisture control. In addition, architects can choose from unlimited forms, colors, and textures for precast concrete cladding panels and various finishes, including precast concrete brick panels, exposed aggregate, sandblasted, stone, and thin brick veneers.
Insulated precast concrete panels lower costs during and after construction:
Builders can quickly install precast concrete wall panels year-round, hastening project timelines.
Panels deliver to the job site ready to install, requiring no precast concrete panels' fabrication, processing, or cutting.
Load-bearing precast panels lower framing costs by providing a column-free building perimeter
The exterior facade of precast panels does not require painting.
When properly installed, precast panels resist impact, corrosion, weathering, and abrasion, to reduce maintenance and repair expenses.
Precast panel's continuous insulation and inherent thermal mass inertia of concrete decreases peak heating and cooling loads, reducing daily temperature swings and saving energy.
Disadvantages of Precast Concrete Wall Panels
Problems associated with heavy precast concrete panels include handling issues, moisture problems, insufficient thermal performance and fire resistance, and costly-time-consuming maintenance.
Transportation and Handling Issues
The cost to transport heavy concrete wall panels ( trailers and fuel) can quickly eat into a budget. In addition, handling the precast concrete requires costly and portable tower cranes.
Moisture Problems
Improper detailing at the connection or cracks in the panel during the cooling and drying after the curing process can allow moisture to enter precast concrete wall systems, leading to widespread water problems due to condensation within the wall construction. Moisture can cause substantial damage to finish materials, corroding and deteriorating the metal components. In addition, moisture can cause structurally damaging and unhealthy mold.
Thermal Performance
Precast wall panel's thermal performance comes mainly from the amount of insulation placed in the cavity or within the backup wall, which can vary tremendously depending on the insulation. The standard insulation types in precast insulated wall panels include:
Expanded polystyrene (EPS), R-value: 3.85 to 4.35 per inch (based on material's density)
Extruded polystyrene (XPS), R-value: 5.0 per inch
Polyisocyanurate, R-value: 6.0 to 8.0 per inch
Fire-Resistance Problems
Fire Engineering Magazine cites several fire-related problems with precast concrete panels, particularly for large commercial construction:
The concrete can break apart if under prolonged attack by fire, and lead to collapsing walls.
Removal of the steel's fire protection coating exposes the steel to potential fires.
Compartments can retain heat, causing the rapid development of fire.
The roofing design and materials make it challenging to penetrate the roofs for ventilation.
Expansive-open floor plans of large precast concrete commercial buildings can facilitate the spreading of smoke, heat, and fire.
Precast concrete panels may allow the vertical fire to spread through unprotected electrical poke-through(s), elevator shafts, HVAC ductwork, exterior curtain walls, open access stairs between floors. Flames may also spread outside the building (auto-exposure) from a floor to above the floor.
Routine Maintenance Required
For aesthetics, sealer or concrete coating on the precast concrete panels reduces moisture penetration into the panel; however, the sealer or coating requires reapplication every 7 to 20 years.
The Best Alternative to Precast Concrete Wall Panels –
StoPanel® Technology Prefabricated Exterior Wall Panels
StoPanel Systems Prefabricated Exterior Wall Panels are a better alternative to precast concrete wall panels. Our lightweight, easy-to-handle system combines all wall components: continuous thermal insulation, air and moisture barrier, and installer-friendly, adjustable sub-framing system – under a single system warranty.
Lightweight StoPanel Systems allow for easier, less costly transporting, handling, and installation.
Sto's straightforward installation of prefabricated exterior wall panels lessens construction errors that lead to callbacks cost overruns.
StoPanel Systems pass the National Fire Protection Association (NFPA) 285 test, a standard measurement for flammability characteristics of current exterior wall systems.
Durable StoPanel systems withstand continued and repeated exposure to the sun, thermal contractor and expansion, and wetting-and-drying cycles – features that lessen maintenance and lengthen the structure's lifespan.
Easy to install StoPanel System's prefabricated exterior wall panels, meets the requirements for excellent moisture-resistant (deflection, drainage, and drying).
In addition, we provide numerous aesthetic façade surface options, accommodating all the needs of your designs. Our tested system ensures that all components of the wall will work together according to today's building codes.
Sto's prefabrication solution, StoPanel Technology®, features 9 prefabricated finished exterior wall panels that include cold-formed metal framing and other applicable components like continuous insulation (ci), glass mat sheathing, air and moisture barrier, sub-framing, and facade aesthetic.
1. StoPanel® Classic NExT ci
The StoPanel® Classic NExT ci prefabricated wall panel includes steel framing, gypsum sheathing, and StoTherm ci façade.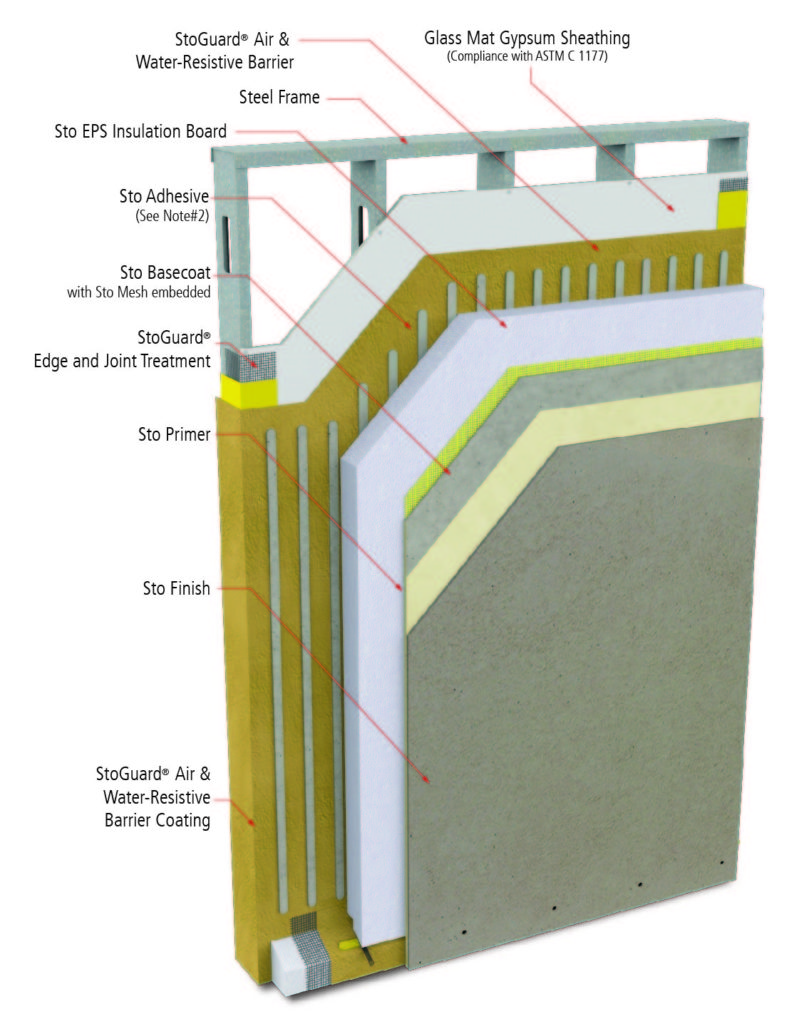 2. StoPanel® MVES
The StoPanel® MVES prefabricated wall panel includes steel framing, gypsum sheathing, exterior insulation, StoGuard air and water resistive barrier, and adhered masonry veneer including thin brick, natural stone, ceramic tile, or cultured stone.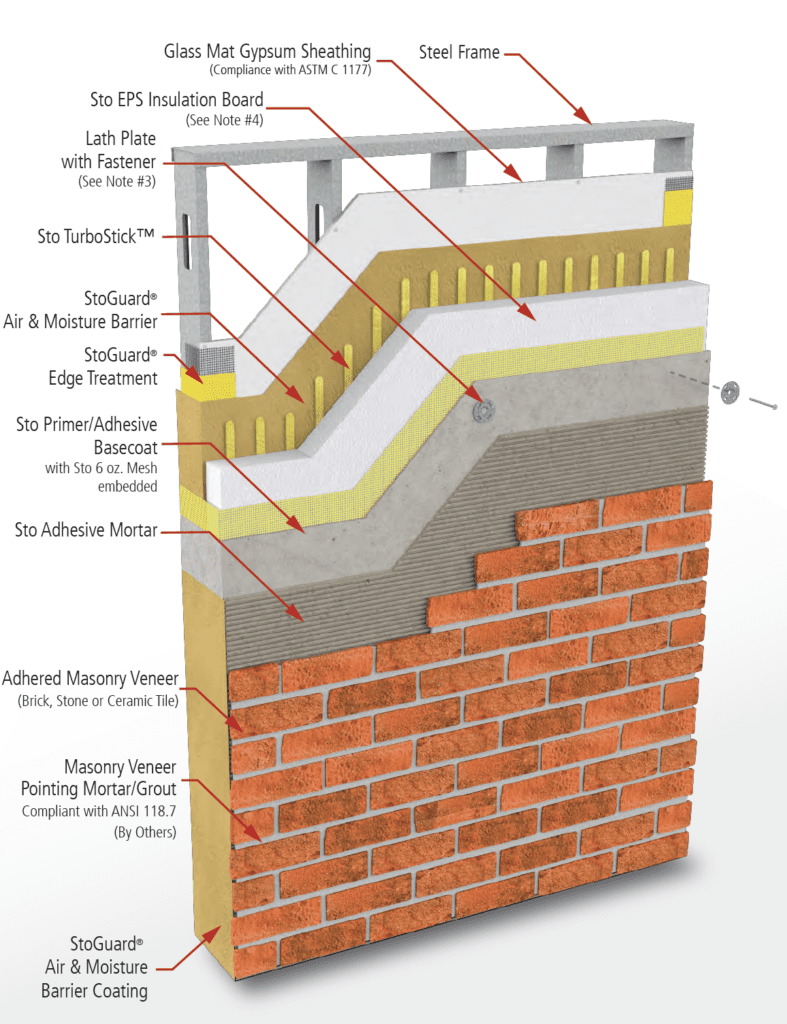 3. StoPanel® Mineral ci
StoPanel® Mineral ci prefabricated wall panels include steel framing, gypsum sheathing, mineral wool non combustible continuous insulation, continuous air and water resistive barrier and StoTherm Mineral ci façade.
4. StoPanel® Impact ci
StoPanel® Impact ci prefabricated wall panels include steel framing, gypsum sheathing, and StoTherm ci system, designed specifically for large and small missile impact performance.
5. StoPanel® 3DP powered by Branch Technology
Working together, StoPanel Technology® and Branch Technology created an exceptional 3-dimensional design for exterior walls. The prefabricated, panelized wall integrates the building envelope layers into a customizable 3D printed lightweight, robust, and easy-to-install composite shape. Branch's unique Cellular Fabrication (C-Fab®) 3D printing process allows you to create a highly functional and unique architectural façade panel in virtually any shape or form.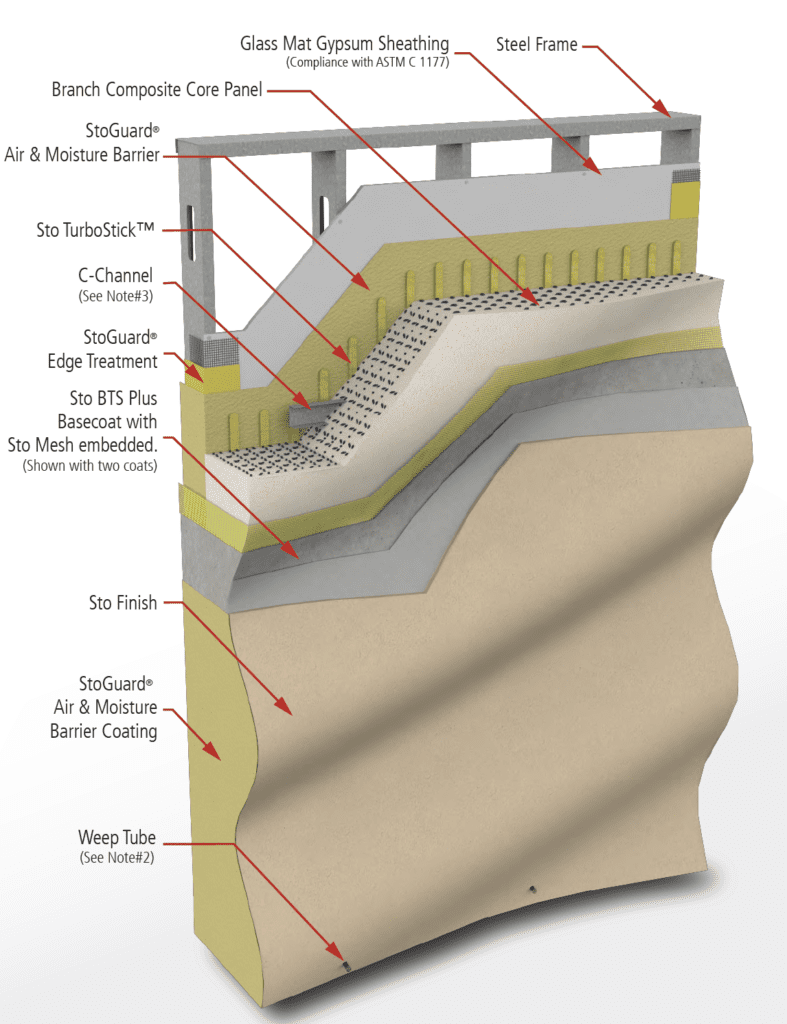 6. StoPanel® XPS
StoPanel® XPS prefabricated wall panels include steel framing, gypsum sheathing, extruded insulation and StoTherm ci façade.
7. StoPanel® Precast
The StoPanel® Precast prefabricated wall panel includes steel framing, gypsum sheathing, and a façade system.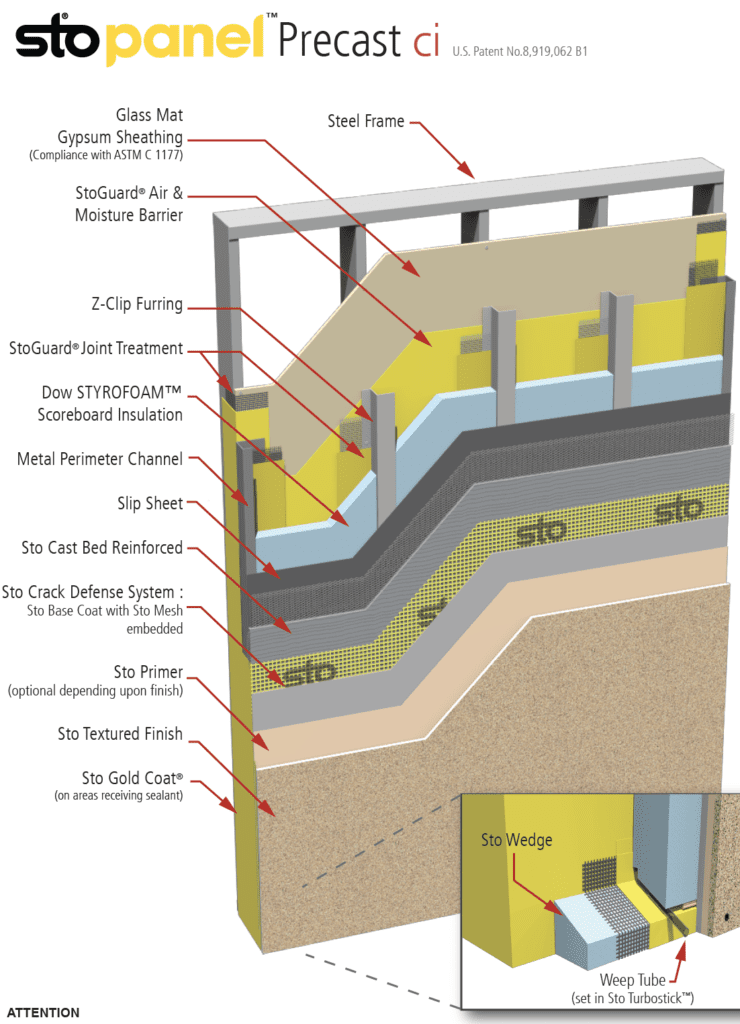 8. StoPanel® Backup
StoPanel® Backup prefabricated wall panels include steel framing, gypsum sheathing, and air/moisture barrier. Builders apply facade on-site.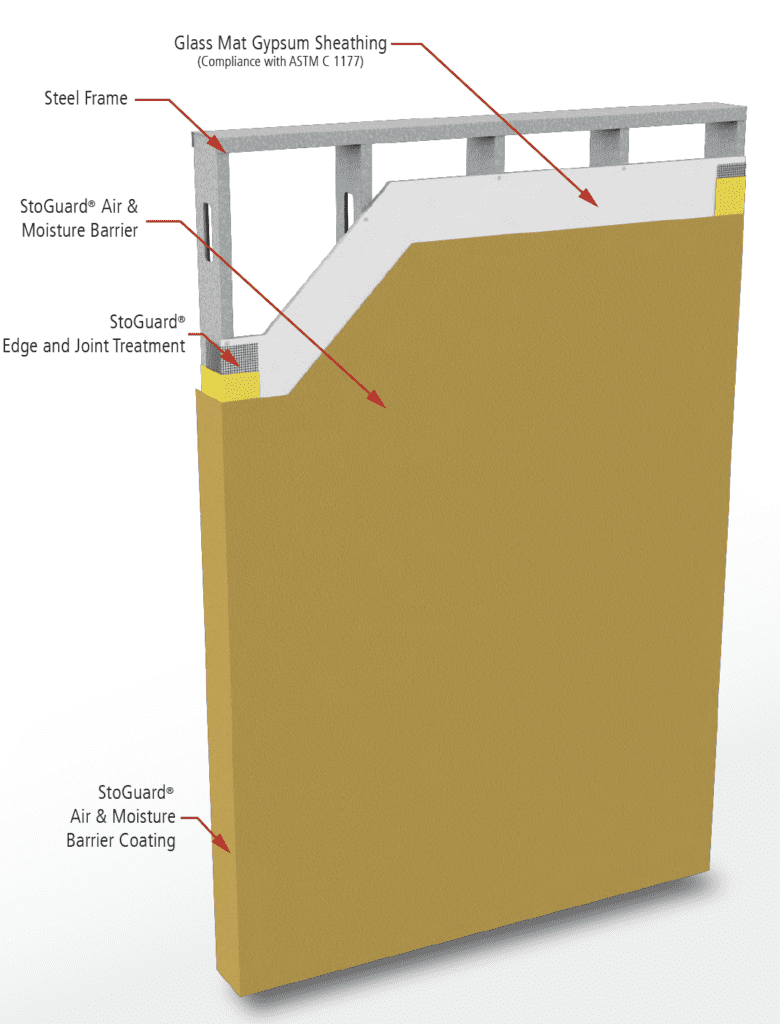 9. StoPanel® Classic ci
StoPanel® Classic ci prefabricated wall panels include steel framing, gypsum sheathing, continuous insulation and air and water resistive barrier and StoTherm ci façade.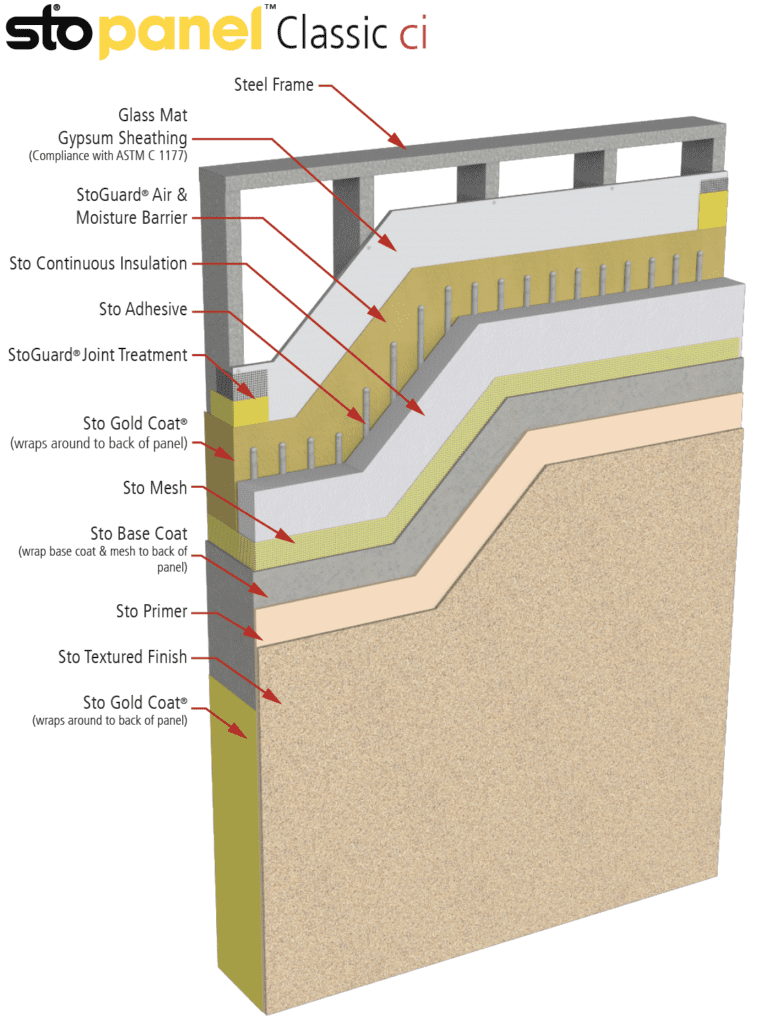 StoPanel® Technology Prefabricated Exterior Wall Panels
Sto's thorough, proven engineering methods can help you bring your design vision to life with thorough, established, and engineered methods. StoPanel® Technology offers an expansive range of high-end aesthetic choices and a variety of code-compliant energy-saving wall systems. Our proven and unique solutions to building project challenges can significantly quicken your construction schedule, lessen waste, and enhance workmanship quality.
For more on why Sto is the best alternative to precast concrete wall panels, explore additional information in our comprehensive, downloadable guide.