The global construction market (including new construction, additions, alterations, maintenance, and repairs) grew from $14503.87 billion in 2022 to $15461.84 billion in 2023 at a compound annual growth rate (CAGR) of 6.6 percent. In addition, analysts predict the construction market to grow to $19519.26 billion in 2027 at a 6.0 percent CAGR.
Unfortunately, the building industry may struggle to take advantage of these unprecedented construction opportunities due to a convergence of several challenges:
Supply chain issues
Labor shortages
Soaring construction demand
Inflation
Pandemic-related restrictions
Increasingly severe weather and wildfires
The war in Ukraine
All these events challenge the construction industry to stay on budget, meet their timelines, and schedule projects. In addition, some contractors report turning down work.
Modular Construction Can Help Overcome Construction Challenges
Prefabricated exterior finished wall panels, like StoPanel Technology®, offer building professionals and owners a method of overcoming challenges in construction that save time, money and resources and improve aesthetics, risk management, sustainability, and indoor environmental quality.
Market research predicts that the global Modular Construction Market size will reach USD 139.03 billion by 2029, from 82.3 billion in 2022, at a CAGR of 6.2 percent during the forecast period of 2023 – 2029.
Contractor Concerns 2023
Today's construction challenges significantly impact contractors' ability to run their businesses successfully:
According to the U.S. Chamber of Commerce, in 2021, 88 percent of contractors reported significant difficulty finding qualified workers skilled in trades like plumbing and carpentry, with 73 percent of contractors citing the worker shortage as their greatest concern in 2022.
The 2023 Construction Global Market Report published the results of a survey of contractors, that concluded:

68 percent report needing skilled workers to do more work, leading to overtime costs.
56 percent report failing to meet their project schedule timelines due to labor shortages. In fact, only 25 percent of construction projects studied from 2012 to 2015 came within 10 percent of their original deadlines.
50 percent required higher bids due to labor shortages.,
35 percent reported turning down work due to labor shortages.
46 percent cited supply chain issues as a top concern, up from 33 percent in 2022
Construction Challenges in 2023
In 2023, the building industry must overcome challenges in construction, mainly associated with supply chain issues and labor shortages, that impacts their ability to accept and bid on projects, stay on budget, and complete a project on time.
Supply Chain Challenges
In recent years, supply chain inventory shortages, long lead times, and volatile prices have challenged builders to stay on time and budget. The combination of events has led to supply chain issues:
Transportation Issues: Fuel Costs and Driver Shortages
In 2022, skyrocketing fuel costs affected transportation costs. However, the U.S. Energy Information Administration's (EIA) latest gasoline and diesel price forecasts prices to decline in 2023 and 2024.

Gasoline predicted prices: $3.39 in 2023 and $3.10 in 2024
Diesel predicted prices: $4.23 in 2023 and $3.69 in 2024

Labor shortages for collecting, producing, manufacturing, and transporting construction materials continue to impact the supply chain. The American Trucking Association reported a historically high truck driver shortage in 2022 of nearly 78,000 drivers, and predicted that it will increase to 160,000 by 2030. Transporting products will likely remain a challenge due to driver shortages, particularly for construction sites in remote locations of the country.
Extreme Weather Events
Recent catastrophic natural events caused significant supply chain disruptions and material price increases. For example:
In 2020, California wildfires pushed lumber prices up 50 percent.
Hurricane Ian in Florida increased prices and material shortage for drywall, timber, roofing insulation, and other building materials.
In 2022, cement and concrete prices rose 14 percent, partially attributed to the following events:
Drought caused low water levels on the Mississippi River barges that limited cement movement and other heavy construction materials delivery.
In 2021, a winter storm Uri in Texas caused some cement manufacturers to shut down, which resulted in a cement shortage and increasing prices.
In addition, a doubling of sand prices to nearly $10 a ton due to its shortage has contributed to higher cement costs.
World Events
World events can significantly impact the global supply chain. For example, a surge in commodity prices, the economic sanctions on multiple countries, and supply chain disruptions due to the Russia-Ukraine war have contributed to global inflation. In addition, the war triggered an increase in export prices of materials like copper, exported by Russia, and aluminum, exported by Ukraine.
Labor Shortages
The Bureau of Labor Statistics reported 413,000 unfilled construction positions in 2022, which was significantly higher than 345,000 the year before. Consequently, the building industry needs more workers to start new projects or complete jobs on time.
In addition, the BLS predicts a 4 percent increase in construction and extraction occupations from 2021 to 2031 (medium annual wage of nearly $50K) which translates to about 723,400 openings for growth and replacement positions needed yearly.
Additionally, the infrastructure bill will potentially create up to 800,000 jobs by its fourth quarter in 2025.
What is Causing the Labor Shortage?
The construction industry's labor shortage began when 600,000 skilled workers left their jobs during the 2008 recession, and many have yet to return. The deficit grew with retiring baby boomers and immigration policies, as well as COVID-19. Also, some younger workers believe a four-year college degree will provide a better future over technical trades, which is not necessarily true. Skilled labor jobs provide several significant benefits over a college education:
Less educational costs and loans
Life-long job skills with long-term opportunities
Thousands of good-paying job openings
Overcoming Challenges in Construction with Modular Sto Panel Technology
For the building industry to benefit from the current construction market, they must overcome construction challenges by redirecting their construction practices towards cost-effective and innovative building materials and less labor-intensive construction methods, like Sto Panel Technology, use prefabricated exterior finished wall panels. Sto Panel Technology provides building teams with a superior-quick modular solution to overcoming construction challenges, to help ensure that a construction project stays on schedule and within budget while also meeting code and safety requirements.
The Benefits of Modular Construction
Modular construction lessens building envelope installation time and labor requirements over traditional methods by providing several significant advantages:
Lessens scaffolding hazards and other on-site building methods for a multi-floor wall, since the wall panels come to the job site pre-assembled to drop into place with a crane
Limits delays caused by on-site weather factors
Efficient upfront planning
Lessens subcontractor scheduling
Allows for the manufacturing of panels while builders complete the initial site work and the building's structural framing
Improves workers' safety and lessens the risk of worker injury that can cause construction delays
Lessens the risk of problems associated with dirt, moisture, and environmental hazards to help protect workers.
Building off-site walls will reduce workers' exposure to dangerous wind, rain, lightning, and changing ground conditions.
Modular construction offers several other cost-saving benefits:
Reduces security costs by lessening the risk of theft and vandalism on the project site
Lowers job site raw material waste by nearly 50 percent compared to conventional construction, to save money and help the environment
Sto Panel Technology
Sto Panel Technology's thoroughly tested, engineered, and warranted prefabricated finished exterior wall panels will help the building industry overcome construction challenges with a less labor-intensive solution that lessens building envelope installation time without sacrificing quality. StoPanel prefabricated panel systems improve quality control and allow building professionals to benefit from the increasing construction market.
The StoPanel system contains cold-formed metal framing and other valuable components, including: air and water-resistive barrier, continuous insulation, glass mat sheathing, sub-framing, and many aesthetic surface options, including precast resin shapes, brick, metal, natural stone, and modern, energy-efficient lightweight textured coating and finishes systems.
Straightforward-to-install, fully-engineered, tested, and code-compliant Sto Panel Technology prefabricated finished exterior wall panels hasten building envelope installation time by up to 80 percent without sacrificing quality. The system reduces overall building costs and allows contractors to realize profits sooner.
Sto Panel Technology Projects
Architects and builders can use StoPanel systems to quickly and efficiently construct aesthetically attractive and durable healthcare, educational, commercial, industrial buildings and more.
Sarah Cannon Cancer Hospital – Plano, TX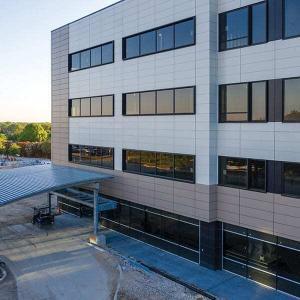 Owner: HCA Healthcare
General Contractor: JE Dunn
Architect: Perkins and Will
Building Type: Healthcare
On-site Assembly Date: December 2018
Panel Type: StoPanel® Classic NExT ci, StoPanel® Dri-Design®, and StoPanel® Backup
Construction of the 138,000 ft2 addition to the Medical City complex in Plano, Texas, came with several expectations:
An ambitious schedule, both in terms of speed of construction and expectation of on-time completion
An addition designed to match the existing aesthetics of the adjacent structure
Fortunately, using prefabricated StoPanel Classic NExT ci panels with a Stolit® textured finish helped the building team achieve their aesthetic and scheduling goals. BakerTriangle Prefab installed the 252 StoPanels in 30 days, easily exceeding the schedule and realizing a cost savings of 8.9 percent.
309 East Paces Ferry Rd – Atlanta, GA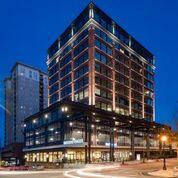 Owner: Loudermilk
General Contractor: Balfour Beatty
Architect: Lyman Davidson & Dooley
Building Type: Office/Retail
On-site Assembly Date: March 2017
Panel Type: StoPanel Classic NExT ci
with StoSignature® Brick
and StoCreativ® Granite
Southern Wall Systems fabricated and installed 30,000 ft2 of StoPanel
Classic NExT ci panels with StoSignature Brick and StoCreativ Granite finishes to update the aesthetic performance of this decades-old office building. After fabricating the panel off-site, the on-site installation only took four weeks!
HCA Healthcare – Davie, FL
Owner: HCA Healthcare
General Contractor: Brasfeld & Gorrie
Architect: Earl Swensson Associates, Inc.
Building Type: Healthcare / Hospital
On-site Assembly Date: January 2019
Panel Type: StoPanel Impact ci
Through smart scheduling and subcontractor coordination, Southern Wall Systems accelerated the design, fabrication, and installation of StoPanel Impact ci panels at the Davie, Florida, regional hospital so the facility could begin serving the community on schedule.
The University of Central Florida (UCF) Lake Nona Medical Center – Orlando, FL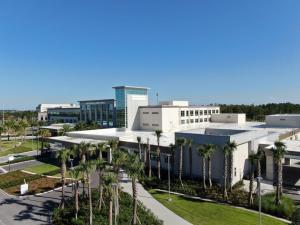 Owner: UCF / HCA
General Contractor: Layton Construction
Architect: ESa
Wall Panel Engineer: FDR
Building Type: Healthcare / Hospital
On-site Assembly Date: 2019
Panel Type: StoPanel Classic NExT ci and StoPanel Impact ci
panels
The design of the UCF Lake Nona Medical Center's building envelope, including the exterior facade, had to meet stringent wind-load and impact requirements needed in hurricane-prone regions. Other challenges to the project included installing glazed openings and curtain walls alongside the erected exterior wall panels and limited site access to underground utilities.
In addition, the building team had to ensure that the project stayed on schedule and budget.
The StoPanel prefabrication process allowed Wal-Mark Contracting to manufacture and install the panels within an accelerated timeline and with fewer workers. It only took eight-panel installation professionals to install 136 panels in eleven days, which allowed them to avoid underground utilities and to exceed their schedule expectations. Conventional field installation would require 30-40 workers, which would cost more and could potentially lead to more job site accidents.
Hilton Canopy Hotel – Tempe, AZ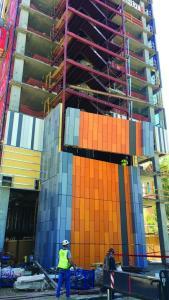 Owner: Driftwood Hospitality Management
General Contractor: Sundt Construction
Architect: Allen + Philp Partners
Engineer: Engineer of Record – PK
Engineer for panel system via MKB: Lochsa Engineering
Building Type: Hotel
On-site Assembly Date: 2nd Quarter 2019
Panel Type: StoPanel Classic NExT ci and StoPanel Dri-Design®
Kapture Prefab combined StoPanel Classic NExT ci with StoPanel Dri-Design® panels for the Hilton Canopy Hotel in Tempe, Arizona. Utilizing prefab panels on the hotels' exterior cut the building schedule by three months compared to traditional construction methods.
Hub on Campus – West Lafayette, IN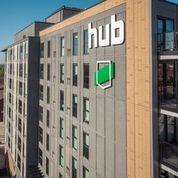 Owner: Core Spaces
General Contractor: Shiel Sexton Company
Architect: Antunovich Associates
Building Type: Student Housing / Apartments
On-site Assembly Date: May 2019
Panel Type: StoPanel Classic ci
Grayhawk, LLC, and Great Lakes Prefab designed, manufactured, and installed 430 StoPanel Classic ci panels to construct the Hub on Campus, a student housing development. The project site challenged the crew because of its limited space for scaffolding. Fortunately, the small team safely applied the prefabricated StoPanels using just one central tower crane. The architect also met the various design needs with StoSignature Brick and Stolit® 1.5 to mimic a corrugated metal appearance.
Kean University – Union, NJ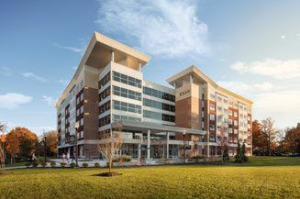 Owner: Kean University
General Contractor: Claremont Construction Group
Architect: Netta Architects
Building Type: Student Housing
On-site Assembly Date: December 2017
Panel Type: StoPanel Classic ci and StoPanel Brick ci
Construction of the Kean University dormitory utilized 65,000 ft2 of StoPanel Classic ci and StoPanel Brick ci fully finished walls panels fabricated by Jersey Panel to successfully achieve the detailed multiple texture design and achieve the set-in-stone completion date to ensure housing for the incoming students.
Westwood Storage – Westwood, NJ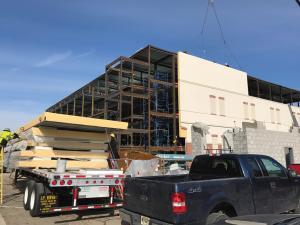 Owner: The Hampshire Companies
General Contractor: Hollister Construction
Architect: SNS Architects & Engineers, PC
Engineer: SNS Architects & Engineers
Building Type: Storage
On-site Assembly Date: 2017
Panel Type: StoPanel Classic ci and StoPanel Brick ci
Atlantic Prefab engineered, fabricated, and quickly and efficiently installed approximately 35,000 ft2 of StoPanel solutions, despite the tight working conditions of the job site. In addition, they accommodated the complicated design of multiple textures and design elements through an ingenious combination of StoPanel Classic ci and StoPanel Brick ci.
Cherese Mari Laulhere Children's Village at Miller Children's & Women's Hospital – Long Beach, CA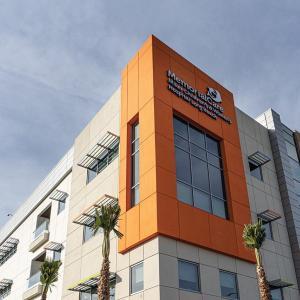 Owner: MemorialCare Health System
General Contractor: Turner Construction Company
Architect: c | a Architects
Engineer: Lochsa Engineering
Building Type: Healthcare/Hospital
On-site Assembly Date: April 2020
Panel Type: StoPanel Classic NExT ci and StoPanel Dri-Design®
The building team chose StoPanel Classic NExT ci and StoPanel Dri-Design® to accelerate the exterior wall insulation and provide extra time to complete the elaborate interior work, which reduced the installation time from 6 months to 5 weeks.
The panel's design also accommodated seismic needs, addressed vital visual alignments, and delivered the intense colors and textures inherent in the design theme of Light, Color, and Energy.
Inspira Medical Center & Medical Office Building – Mullica Hill, NJ
Owner: Inspira Health Network General
Contractor: Skanska
Architect: Array Architects
Building Envelope Contractor: Jersey Panel
Building Type: Healthcare
On-site Assembly Date: October 2019
Panel Type: StoPanel Metal ci, StoPanel Classic NExT ci, StoPanel Brick ci using Stone Veneer
The building team worked together through all phases of the construction to address the construction and aesthetic challenges in the vertical expansion (two floors) of the Inspira Medical Center.
The team chose prefabricated, lightweight, energy-efficient, and durable Sto Panel Technology prefabricated wall panels. Jersey Panel engineered, fabricated, transported, and installed 121,000 ft2 modular facade panels. They combined radiused and flat panels, a microtextured self-cleaning finish, and a thin stone veneer to create a dynamic appearance.
Overcoming Challenges of Construction with Sto Corp. Products
The increasing construction market offers building industry professionals the opportunity to grow their businesses. However, construction challenges, particularly supply chain issues and labor shortages, can make it difficult to stay on budget, meet timelines, and schedule projects.
Fortunately, contractors can overcome construction challenges by choosing Sto Panel Technology's modular, prefabricated, integrated building enclosure systems. Our high-performing panel systems require less labor and can hasten the timeline compared to traditional bundling methods.
Don't hesitate to contact a Sto professional today to learn more about overcoming construction challenges for a profitable and reliable business. To learn more about the use of prefabrication in construction and Sto Panel Technology, click here to download Industry Shift: The Acceleration of Panelization or join the conversation on LinkedIn.